Billy loved watching horror movies, but didn't love being menaced by three school bullies. Unfortunately they were bigger and stronger, so what could he do?
One very unusual day, Billy is given the perfect opportunity for revenge. But is revenge all it's cracked up to be?
With an assortment of creepy characters and ghoulish ghouls, The Night The Bullies Were Bullied! offers a morality tale that challenges the reader to think about power, compassion and forgiveness from a variety of angles. Ages 6 and up/40 pages
"The Night The Bullies Were Bullied! is a positive, exciting read and a great book for teachers to use with students to discuss bullying."
—Thomas Fitzgibbons
Coordinator, Special Education/Child Study Team
Charter High School for the Health Sciences, Jersey City, NJ
"Imaginative and fun story that illustrates both sides of the bullying issue, exploring the importance of kindness and forgiveness. Parents and teachers should be encouraged to use this book to talk with children about this very difficult topic."
—Wanjiro Gethaiga
Licensed Master Social Worker, NYC
THE NIGHT THE BULLIES WERE BULLIED!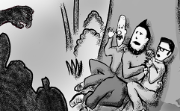 Written & Illustrated by Charles Ricciardi
ILLUSTRATED CHILDREN'S BOOK