The clock is ticking. Another weekend is almost over and one
little boy is determined not to do his homework.
But a homework-free weekend isn't as easy as you might think; especially with mom and dad lurking around. As Monday morning looms closer, something unexpected sweeps into town to deliver the ultimate lesson!
I'll Do My Homework...But First! is a humorous and relatable procrastination tale packed with wild excuses and full-color illustrations!
Ages 6 and up/27 pages
I'll dO MY HOMEWORK...BUT FIRST!
ILLUSTRATED CHILDREN'S BOOK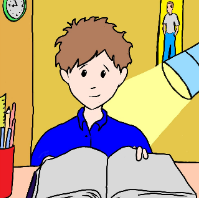 Written & Illustrated by Charles Ricciardi