DREW: THE MAN BEHIND THE POSTER is a feature-length documentary highlighting the career of artist Drew Struzan, whose most popular works include the iconic "Indiana Jones," "Back to the Future" and "Star Wars" movie posters. Telling the story through exclusive interviews with George Lucas, Harrison Ford, Michael J. Fox, Frank Darabont, Guillermo del Toro, Bob Gale, Steven Spielberg and many other filmmakers, artists and critics, the journey spans Drew's early career in commercial and album cover art through his recent movie work becoming one of the most recognizable and influential artists of all time.

Directed by Erik P. Sharkey Produced by Charles Ricciardi
Directors of Photographny Thomas Mumme & Greg Boas
Editor Jeff Yorkes
Supervising Editor Greg Boas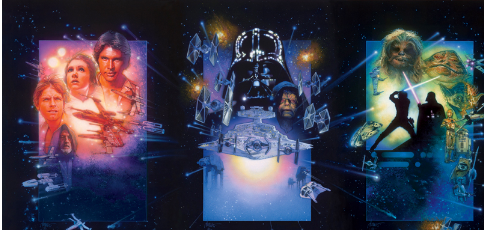 "There have been some very worthwhile coffee table books showcasing Struzan's imagery, but never an industry salute as comprehensive as the documentary 'Drew: The Man Behind the Poster.'"
—Tom Russo
"This doc is a must-see for fans of Star Wars and Spielberg, and doesn't that include just about everyone?"
—Whitney Matheson
"The Norman Rockwell of movie advertising steps in front of the camera for a long-overdue celebration sure to delight fans and heighten awareness of his legacy. While this documentary's theatrical life seems limited, discs of the release could become as collectible as the maestro's work."
—Peter Debruge
"Drew makes a valid case for the artist as not simply an all-time great, but as a casualty of a business that prizes bottom-line cost management above unique creativity."
—Nick Schager